Our Team
At Pacific Northwest Fundraising, our team is comprised of dedicated and caring individuals who wake up each day ready to work hard and help nonprofit organizations thrive. We have specialists in various fields like grant writing, campaign management, and social media marketing. Our company has years of experience in fundraising for various NPO's, which allows us to have a unique insight on which methods and strategies are the most effective.
Our goal is to help nonprofit organizations get the funding they need to grow larger, take on more projects, and share their message with the world. The end results aren't all that matter to us as we strive to continuously create a fun and enjoyable experience. We genuinely care about the people we work with and their missions, which is why we always maintain 100% open and honest communication. If you're ready to work side by side with a team that has your best interests in mind, then give us a call!
---
Eddie Allen
Founder/CEO/Lead Guide
Pronouns: he/him/his
I have been involved with fundraising and cause marketing efforts with numerous nonprofits in the area including FISH, Humane Society of SW Washington, Clark County Mural Society, Columbia River Mental Health Foundation, Educational Opportunities for Children and Families, St. Joseph Catholic School & Parish, Leadership Clark County, Pink Lemonade Project, Adventure Without Limits and The Gardner School of Arts & Sciences.
I am a graduate of Clark College and Western Washington University, a member of the 2014 Leadership Clark County class, a National Academy of Sports Medicine certified personal trainer and a two-time winner of the Washington State Umpire of the Year.
For fun, I spend most weekends hiking with my world-class disc dog, Nick the Wonder Dog!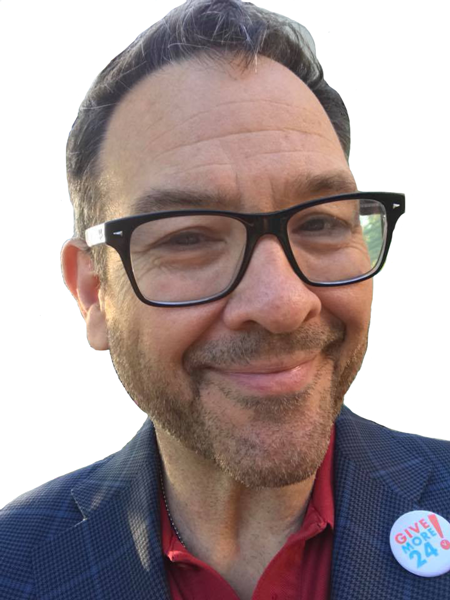 Fun Fact
I have backpacked the "O" circuit in Patagonia, I am mostly left-handed (I write right-handed, everything else left-handed). I was also born on my mom's 21st birthday.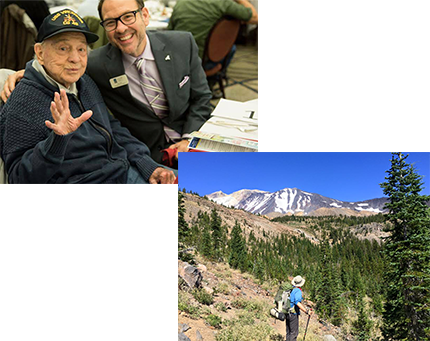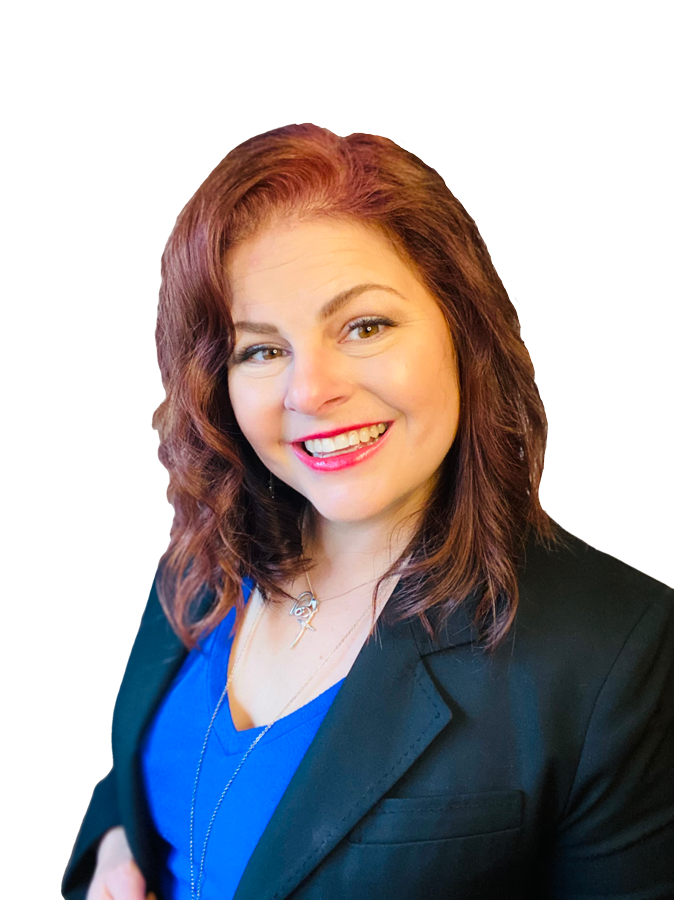 Amber Tripp
Director of Stewardship
Pronouns: she/her/hers
I have spent my career in client relationship management, beginning my 20 years of experience with sales and account management. The last handful or so of years, I have made a shift towards online marketing. My expertise is centered on creating strategic plans with clients including developing a stellar web presence, great digital marketing materials and utilizing tools such as SEO and SEM to further promote clients online. I also have experience with designing and redesigning websites, branding and project management.
In the last 4 years, I have been on the board of directors for Reprise Choir, a nonprofit here in Vancouver WA. My position on the board includes month-to-month strategies on fundraising as well as marketing, building our presence in the area, and PR for the choir. As a nonprofit, we have been involved with GiveMore24 for the last 3 years.
My formal education includes a Bachelor of Arts degree in Music from Knox College. I also have certifications in Google Ads and working knowledge in various web-building platforms and social media platforms.
I spend most of my free time with my 5 year old daughter, teaching her, and getting out in nature as much as possible. I also love to sing and play piano when I have the opportunity.
Fun Fact
As a teen, I lived in Europe for 3 years. I also love historical architecture and wine tasting, went to Nationals for Tae Kwon Do, cook fantastic scallops, and recently took up directing handbell choir.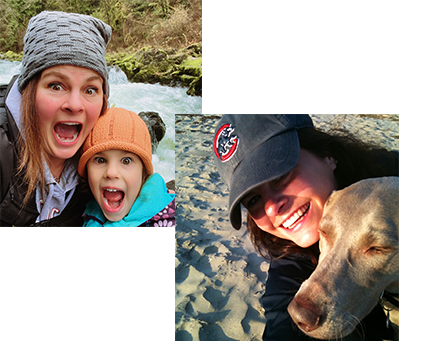 Kimberly Hansen
Happiness Guide
Pronouns: she/her/hers
Kimberly Hansen is PNWF's Happiness Guide! Kimberly is truly dedicated to building community. A former youth pastor and advocate for at-risk kids, she brings stellar skills in relationship building and problem-solving to her role at PNWF. As our engagement steward, she interacts with all our clients, ensures clear communications, and resolves any customer service issues. When she's not out hiking or backpacking, you might find Kimberly answering questions, helping with logistics, or advising on project management…whatever it takes to ensure that PNWF clients have the best experience possible!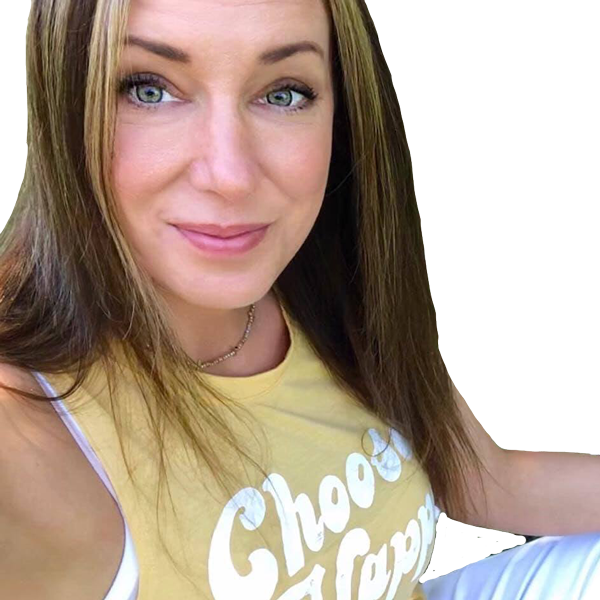 Fun Fact
I enjoy backpacking, playing soccer and I am currently training for mountaineering.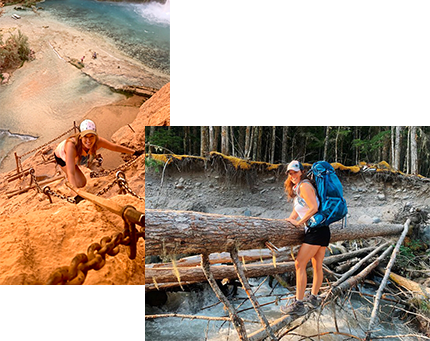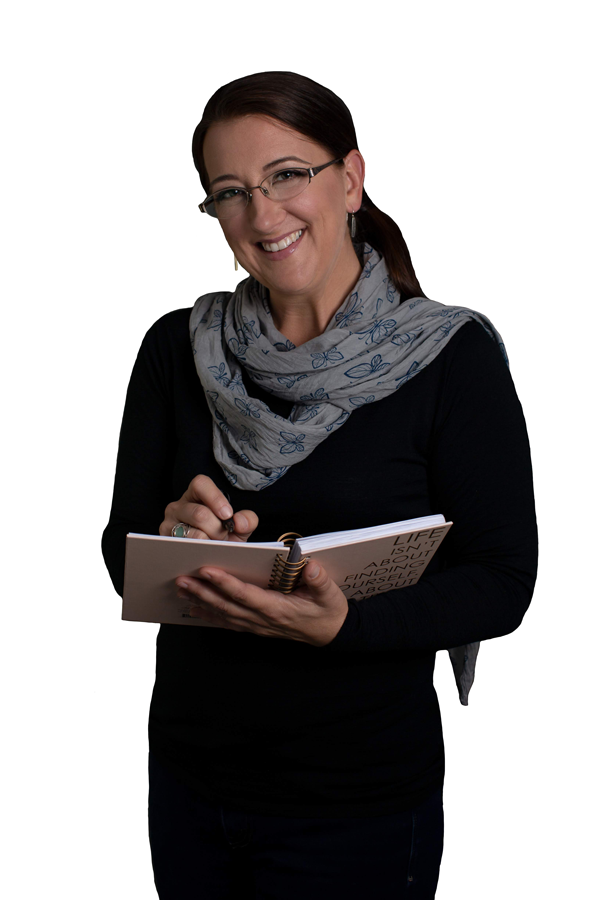 Nell Stamper
Grant Steward
Sea Change Wordcraft Services, Owner
Pronouns: she/her/hers
After a 20 year career as a Coast Guard officer, I returned to my home state of Oregon and settled on the North Coast. I began a second career in nonprofit service, focusing on community action and behavioral health. In the past several years, I've been a case worker for homeless Veterans, a mental health crisis responder, a private practice therapist, a project director for opioid treatment expansion, and a grant writer at a variety of agencies in northern Oregon and southern Washington.
I also volunteer as a mountain bike trail builder and advocate, with a focus on expanding access to the sport, and I serve on the Oregon Governor's Veterans Affairs Advisory Committee.
My formal education includes degrees from the U.S. Coast Guard Academy, the U.S. Military Academy (West Point), Long Island University, and Johns Hopkins School of Advanced International Studies. My informal education includes 10 years at sea, plenty of outdoor adventuring, extensive travel, and parenting three lively children.
I love to read and write and collaborate.
Fun Fact
I started playing roller derby to celebrate my 40th birthday, and a few years later, I still enjoy roller skating. Even though I'm a true Oregonian, I don't like mushrooms, or hoppy beer. But I do love the rain!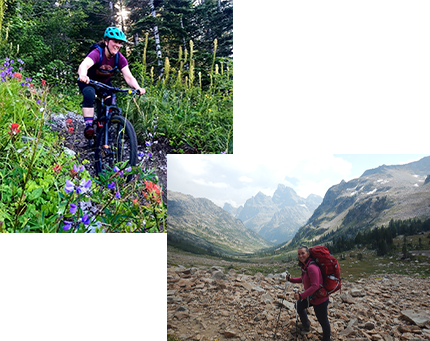 Benito Tijerina
Social Media & Technology Steward
Pronouns: he/his/him
Benito Tijerina is a Graduate of Central Washington University with a degree in Early Childhood Education. Benito has been podcasting and working with social and digital media for going on 5 years. Working with various companies helping develop social media strategies and marketing for success! His notable social media presence includes working with Central Washington University's Radio Station 88.1 the Burg, St.Joseph Catholic School, and of course Pacific Northwest Fundraising. Benito is happily married with 2 cats here in Vancouver, WA where he works as a 1st grade teacher as well as the social media guide for PNWF.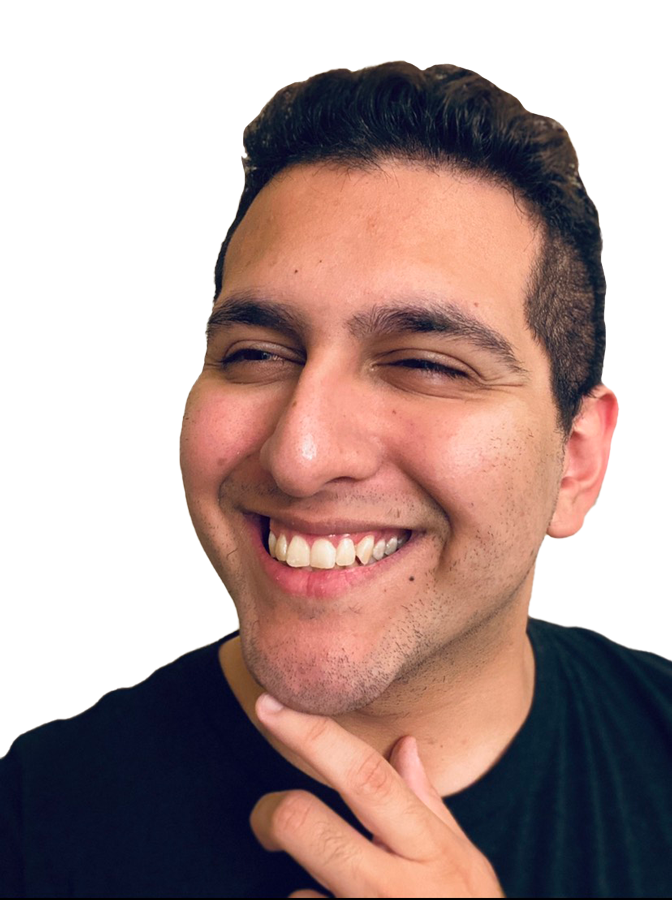 Fun Fact
Every time Benito cooks (which he does a lot) he imagines he is on the food network. He also believes that to cook good food you must become/dress up as good food.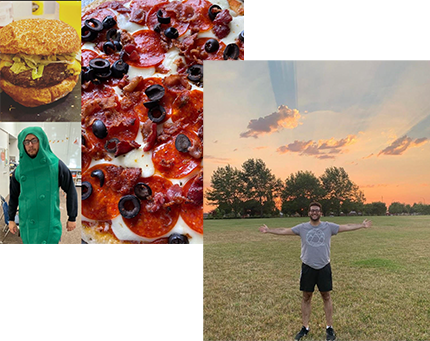 Angela Maguire
Marketing Steward
Motherlode Creative Services, Owner
Pronouns: she/her/hers
Angela is an adventure-loving graphic designer, writer and award-winning marketer with a passion for supporting individuals and organizations to fulfill their visions, dreams, and potentials.
Her skill with visual and verbal communications took shape as a publishing consultant and workshop director — teaching graphic design, journalism, marketing and leadership to high school and middle school students throughout SW Washington and the Portland Metro area for 18 years.
In 2015, Angela founded Motherlode Creative Services, which provides Clark and Cowlitz County nonprofits and small businesses with marketing and graphic design support. She has volunteered with SW Washington's Giving Circle on their Guiding Circle, chaired and served on the Gardner School auction committee, in addition to serving on their development and marketing committees. As the Director of Communications & Marketing, Angela's work on the Gardner School's Klahowya Magazine was recognized with a Gold Brilliance Award for outstanding school marketing by Inspired School Marketers.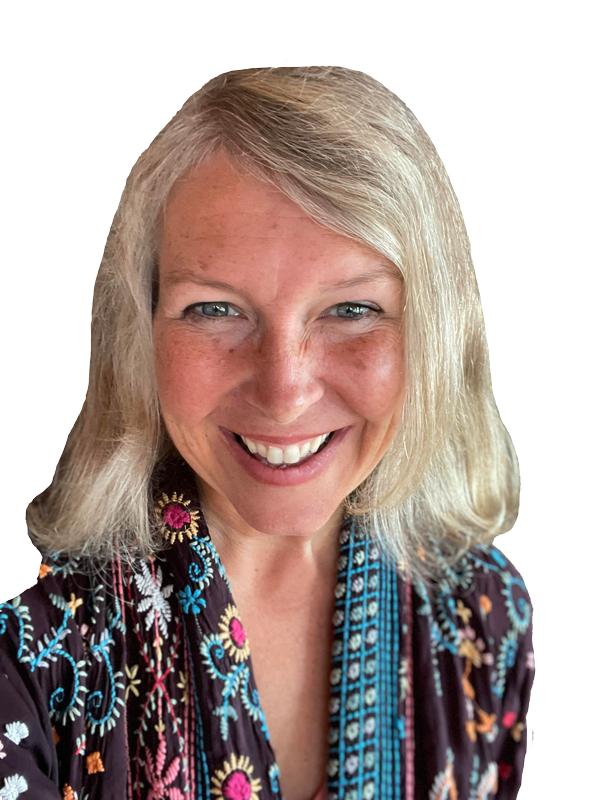 Fun Fact
I recently returned to the Pacific Northwest after two years of full-time world travel. In 2019 our family of four "sold it all," and set off for a world-schooling adventure!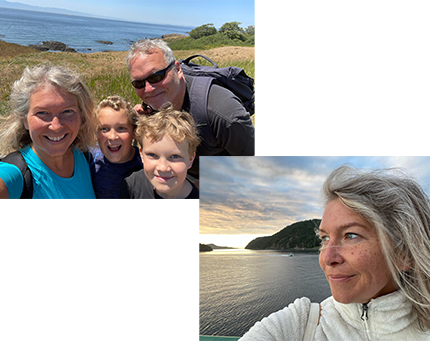 Kevin Hiebert
Owner, and Principal of Resonate Consulting and Leadership Development
Pronouns: he/him/his
Kevin Hiebert, principal of Resonate Consulting and is passionate about collaboration, participatory leadership and seeing collective wisdom and action emerge. An experienced facilitator, trainer and business and strategy consultant, Kevin has the simple principle that guides his work of "Work Made Better".
He consults with organizations, non-profits and teams to develop high-performing, nimble and responsive organizations.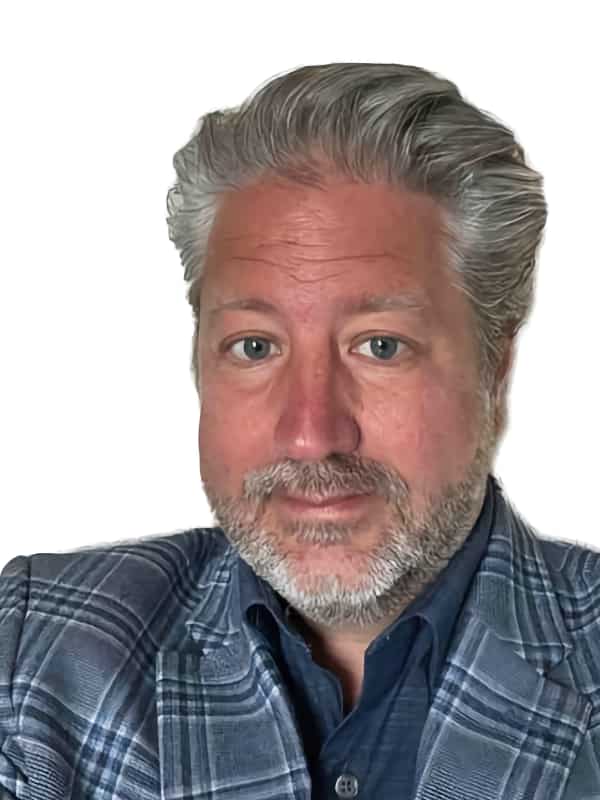 Let's Get Started!
Our team is ready to discuss your organization as a whole; what your mission is, the goals you hope to achieve, and the message you are trying to send. Contact us today for more information on how to get started with Pacific Northwest Fundraising.